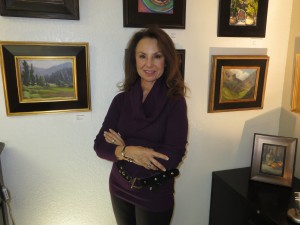 Photo from my art opening Sacramento.
I was honored to participate in a Group Show in Sacramento at the Capitol Arts Gallery,
my first show in an urban Californian area.  It was the annual small works show, no work larger than 8″ x 10″.
It was a festive evening since the gallery participates in the monthly "Second Saturday" art walk.  We spent the afternoon visiting many other galleries in town and am proud to say Capitol Arts Gallery is one of the two finest.
September 13th, 2014 I will be a reception at this gallery for may 'One Man Show" which will run through October.