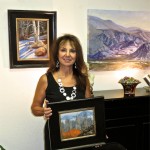 Though hidden away, Capitol ArtWorks Gallery ranks as one of Sacramento's premiere art galleries and studios.  Located at 1215 21st Street, between L and Capital Streets, – behind the nondescript façade of Bode & Bode Lock Company – this gem displays recognized and emerging artists from Nevada and California making it eminently qualified for ranking with "The Best of the Best" in Sacramento.
Former Monterey, California, resident, architect, and talented painter Emma Auriemma-McKay, now residing in Reno, Nevada, has recently started exhibiting at Capitol ArtWorks Gallery. Her finely executed works reflect unique and always pleasing vistas inspired by the majesty and grandeur of the Sierra Nevada under the kaleidoscopic skies of western Nevada. Emma's clear perception, fine attention to detail, rendered always in exacting original brush strokes are definitely worth viewing and contemplating. The exceptional originality and masterly interpretation of Emma's works further enhance her own artistic reputation and bring added prestige to Capitol Art-Works Gallery.
Owner and operator Debbie Gualco, an architect and artist in her own right, located her architectural practice in this location. With an artistic prescience informed by sophistication and recognition of refined talent Ms. Gualco wisely dedicated wall space for exhibiting fine artistic works. She has also incorporated space for the purpose of instruction in figure and portraiture painting.
Capitol ArtWorks Gallery enthusiastically participates in Sacramento's monthly art walks, held the second Saturday of every month. The Gallery will be hosting a reception during the Saturday, September 13 art walk between 6:00 – 9:00 pm.  Additionally in the studio that evening,  you will have the unique occasion to witness artists painting a model in session and watch as their images on their canvases emerge.
Do mark your calendars for an aesthetically pleasing and worthy evening viewing the works of Emma Auriemma-McKay.  For information on the artist visit www.emmaauriemmafinrart.com.   For information concerning studio sessions and up-coming events and exhibits visit www.capital-artworks.com. To verify hours and, or, to make an appointment to view the exhibit call 916-207-3787.